ITG Pepperoni Pizza - Step 3
For Step 3 of the ITG Diet Plan
Difficulty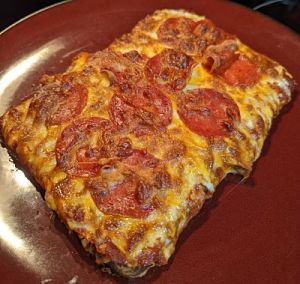 Ingredients
For 2 Servings(s) (


)
Recipe
4

slices of Dark Protein Bread

1

dash(es)

garlic powder, pepper, oregano, basil

0.25

cup(s)

Ragu Traditional Tomato Sauce

1

cooking spray

0.25

cup(s)

shredded mozzarella cheese

8

slices Turkey Pepperoni
ITG Pepperoni Pizza - Step 3 Directions
Preheat your air fryer for 5 minutes at 380F as you assemble your pizza.

Lay out a square of foil and spray a rectangular shaped area with cooking spray.

Place Dark Protein Bread as your "crust" on the sprayed area, then give the top of the bread a little spray of cooking spray as well (may use a butter flavored cooking spray to add flavor to the bread).

Add a dash of garlic powder, pepper, oregano, basil, and/or Italian seasoning to the bread.

Sprinkle a thin layer of shredded mozzarella cheese over the seasoned bread.

Spoon a thin layer of tomato sauce over the cheese to evenly cover everything.

Place the slices of turkey pepperoni and then finish off the remaining mozzarella cheese on top of the pepperoni layer.

Pick up the foil holding the pizza and place carefully in the preheated air fryer (cook on top of foil for no mess). Air fry for about 8 minutes and check to make sure the cheese isn't burning. Feel free to add an extra couple minutes for a more well-done and crisp look to the pepperoni and cheese. Note: If you are using a conventional oven, cook at 375F for about 10-15 minutes or until it reaches desired doneness.