Mustard Rubbed Pork Tenderloin with Brussel Sprouts
For All Stages of the ITG Diet Plan
Difficulty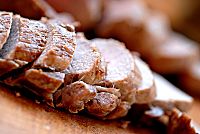 Ingredients
For 4 people (




)
Recipe
10

ounce(s)

Quatered Brussel Sprouts

0.75

teaspoon(s)

Sea Salt

0.75

teaspoon(s)

Freshly Ground Black Pepper

1

Large Pork Tenderloin (butterflied)

2

tablespoon(s)

Dijon Mustard

2

tablespoon(s)

Olive Oil

0.5

cup(s)

Chicken Broth (low sodium)
Mustard Rubbed Pork Tenderloin with Brussel Sprouts Directions
In a medium pot fitted with a steamer, steam brussels sprouts 8 minutes.

Sprinkle 1/2 teaspoon each salt and black pepper on pork and then spread with mustard. In a 12-inch skillet, warm 1 tablespoon olive oil over medium-high heat; add pork and cook 7 minutes. Turn and cook 6 minutes more; remove from pan and slice.

Add chicken broth to pan and stir, scraping up brown bits; toss in brussels sprouts and heat for 1 minute.

Serve and enjoy!