Caramel Pancake Pudding Cake Rolls
For All Stages of the ITG Diet Plan
Difficulty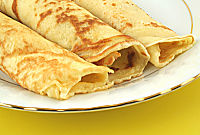 Ingredients
For 1 people (

)
Recipe
1

Packet ITG Pancake (your choice)

1

Packet ITG Dulce De Leche Pudding
Caramel Pancake Pudding Cake Rolls Directions
Make an ITG Chocolate Chip or Plain Pancake. You will want it to be a bit runny to create a larger thin pancake. Cook on both sides. Let cool.

Meanwhile, mix pudding flavor of your choice. Once pancake is cool, spread a layer of pudding over top.

Take short end of pancake and roll it up, like a "jelly roll." You can enjoy it right away or, wrap with saran wrap. This will hold the shape until you are ready to eat it.

For entertaining, once the roll has taken shape, you can cut it into small pieces (finger food) and place on a lovely platter. Your guests will love them and you can tell them they won't gain an ounce! 

Special Topping: Add just enough water to the ITG Chocolate Drink to make a thick "sauce." Drizzle over Pancake Pudding Rolls!